Older CS players certainly remember the days when we deposited every possible skin we had on roulettes to play / have fun and possibly expand our equipment. However, Steam ended the activity of many sites with an update. The exchange of skins became impossible, due to a 7-day tradeban for new items in the user's inventory. Some sites decided not to give up and slightly changed their approach and skin deposit methods.
Some sites introduced the Player to Player system, where they monitor exchanges between two users. To avoid a tradeban, the skin passes directly from the hands of the person depositing funds on the site, to someone who wants to buy a particular skin. This is a good way around it, as the site only displays the offer. Sometimes, however, you have to wait a while for the shipment, as another person may be currently away from the computer.
Buying coins
Another way to get coins is to buy them through external websites. There are many sites that offer the sale of currency on sites. However, it is best to use Polish sites, as we have the option of paying by BLIK, and in case of problems we can easily contact support in Polish, and we will surely straighten everything out.
Coinsell.pro
Coinsell.pro offers the sale of coins for csgoempire, csgopolygon, and csgo500, which are currently the most popular gambling sites. Purchases are sent by a bot, so within a minute we can find them on our account. Buying coins is 100% legal, all we have to do is log in to both sites. This is a convenient and easy way to get coins for gambling.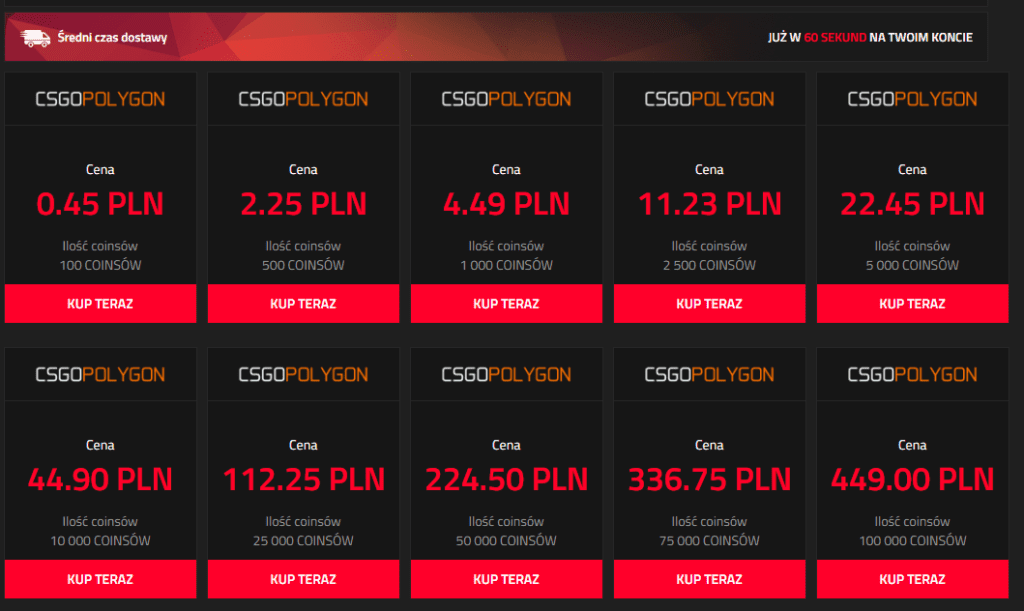 The site has daily giveaways, which we sign up for by purchasing one of the offers on the site. Every day 2500 coins are drawn on the csgo500 site. It's not a lot of money, but it's definitely a nice bonus, because we can win coins for free, which we can withdraw to our account and play with them, or withdraw some skins.
One of the things that also caught my attention was the calculator. We enter the amount we want to spend and the system calculates the amount of coins we can buy. This calculation may not be difficult, but I have not seen such innovation on any such site.